Before applying for the Homeownership Program:
Review the program process.

Review the minimum eligibility requirements.
---
All adult members of the household are considered Applicants. You must include all sources of income on the application to ensure you meet income requirements.
Complete the application online.
Complete the application offline.
---
Program Process
Submit an application. It typically takes 2-4 business days for your application to be processed. 
Eligible applicants will be invited to a Homebuyer Education course. 
Complete all education sessions to be eligible for down payment assistance. 
Complete a counseling session with the HUD-Certified Housing Counselor. During your one-on-one appointment, your budget, credit, and loan eligibility will be reviewed. 
Receive pre-approval for a first mortgage from one NWL's participating lenders. 
Find your home! Your real estate agent should meet with a member of the NWL team if they have not worked with the program before. 
Once you find your home, NWL construction staff will inspect it to make sure that the potential rehab scope fits within the available funding. (It is possible that your home would be disallowed from the program based on rehabilitation needs; most homes require some rehabilitation, but not all). 
Close (complete the purchase) on your home! 
Begin any necessary repairs or rehabilitation.
---
Minimum Eligibility Requirements
NeighborWorks Lincoln's homeownership program is focused on providing assistance to low-to-moderate income buyers in purchasing their first home. This typically works out to families or individuals that make between 60% and 120% of Area Median Income, or AMI. Below are the program requirements to receive down payment and rehabilitation assistance from NeighborWorks Lincoln - both the borrower and the property must qualify.
Homebuyer education is available for all Lincoln residents, regardless of income.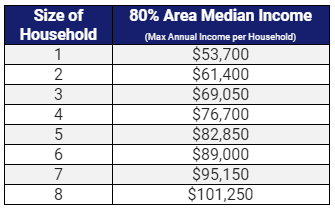 Borrower Requirements
Household income must fall under certain guidelines (see chart);
Minimum credit score of 640;
No bankruptcy discharge within the past 5 years;
Continuous job history for the past 2 years (Less if recent graduate from college in applicable job field. If part-time at least 2 years in the same position);
Able to qualify for a first mortgage with one of our lending partners;
Have at least $1,000 for a down payment (must be your own money and not from a gift);
Minimum of $900 for a monthly payment;
Interested in purchasing a home within 6 months (This program does not guarantee that you will purchase a home within 6 months as that is dependent on current housing market trends, housing conditions, your budget, and other qualifications as listed.);
Complete all Homebuyer Education classes (all adults in the household must attend);
Complete a counseling session with the NWL HUD-certified Counselor; and 
Be a first time home buyer (have not owned a home within the last 3 years) and cannot own other property.
Property Requirements
Located within Lincoln city limits;
Must be a single-family residence;
Cannot be currently occupied by a renter (unless the borrower is the renter);
Maximum purchase price and appraised value may not exceed $238,165 (as of 9.1.22);
Rehabilitation costs cannot exceed $15,000 and are determined by the NWL Real Estate Director;
Properties located in areas designated as either Neighborhood Revitalization Strategy Area (NRSA) or Low-to-Moderate Income (LMI) can qualify for up to $35,000 in down payment assistance, closing costs, and rehabilitation (properties located outside of these target areas can receive up to $25,000).